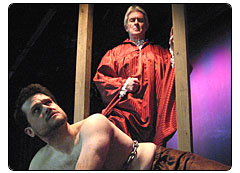 "La Vida es Sueño" ("Life is a Dream"), written by Spanish master Pedro Calderón de la Barca, tells the story of a prince held captive by his father.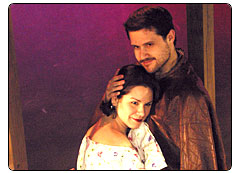 The play is produced in both English and Spanish with bilingual actors from Colombia, Cuba, Spain, Puerto Rico, Venezuela and the United States.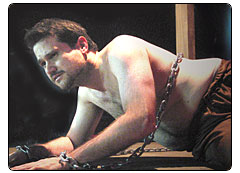 The actors, as well as the production crew, are aware of the difficulties and challenges they face with this project.

Finding a place in the arts
03/17/2004
What began as a dream over two and a half years ago is finally coming to fruition: a play produced in both English and Spanish with bilingual actors from Colombia, Cuba, Spain, Puerto Rico, Venezuela and the United States. For director Anthony P. Rodríguez and his cast, in the making of "La Vida es Sueño" ("Life is a Dream") challenges became rewards, and fears, learning experiences.

"When we first began to put [Teatro del Sol] together, we didn't want it to be just about Cubans, or Puerto Ricans, because there are so many Hispanic cultures that we get inspiration from," says Rodríguez.

For Venezuelan actor Gabriel Rincón-Mora, it is important to be inclusive and celebrate cultural diversity. "I would like for Spanish theater in the United States to grow," he says. "Immigrants need to keep in touch with their roots, and theater allows you to not only preserve them, but also share them with the new culture."

The play, written by Spanish master Pedro Calderón de la Barca, tells the story of a prince held captive by his father who, fearing he would become a tyrant, confines him to a tower.

Prince Segismundo's only contact with the outside world is through Clotaldo, his guardian and teacher, so when he finally comes out he behaves like a beast, and has to be locked up again. The play deals with topics as philosophic as freedom, power and life in general.

THE DREAM

Rodríguez had wanted to produce a play in Spanish, and he approached several Hispanic playwrights, but their works were in English. He chose "La Vida es Sueño" for many reasons: "Although it was written in the 17th century, the theme of the play is very universal, and even today it's still relevant," he says.

The actors, as well as the production crew, are aware of the difficulties and challenges they face with this project.

Luis Hernández, from Puerto Rico, tried to start a theater company that would bring Spanish plays onstage, but he wasn't successful. However, much has changed since those days and now Georgia's Latino population is immense.

"Here Hispanics don't have an artistic outlet; there are companies that produce plays by Spanish or Latin American authors, or that make reference to our culture, but nothing like what we're doing," Hernández says.

"It is ambitious to do a play in two languages. We have twice the work and the same amount of time," Alexandros Salazar, from Colombia, points out. "But when all this is over, it will be the opening of Teatro del Sol. That's exciting, and we can't help but feel proud," Salazar says.

Gene Ruyle, one of the American actors in the play, sees it from a different perspective.

"Theater is such a great place for people that don't speak Spanish to actually understand the text; the actors bring it to life, and people can relate to that," he says.

Although it's still early to predict the outcome of Teatro del Sol, the dedication the cast and crew have put into their first production, as well as the prevailing need for theater in Spanish in Atlanta, can only be seen as signs of good fortune.

For more information on the schedules for "La Vida es Sueño", please visit www.auroratheatre.com, call 770-476-7926