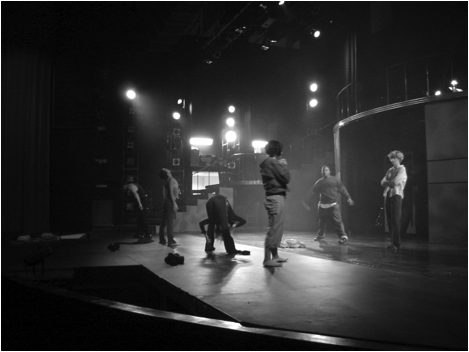 Warm Ups
y first audition! I'm a thirty-year-old engineer and my latest urge, of all things, is to perform on stage. I don't simply want to act and emote but dance and sing, and in front of a live audience, the famed triple threat of musical theatre (an expression I've come to learn only after the fact). My background in the performing arts, to this point, has been nil, nothing, zero, zilch, nada. Sports, cars, women, and work have pretty much filled my life, fulfilling every longing inch of my soul. The idea of performing on stage has been as alien and as interesting to me as the courtship habits of iguanas. My traditional macho, Latin American upbringing hasn't helped either. It denounces the stage as an occupation for the corrupt and softhearted, fueled by booze, drugs, and sex. Now…now, I want to be a part of it. I want to be a part of its glamour, its madness, and its curse. However, to do this, must I not audition like in the movies, and I mean in front of the exacting scrutiny of a pack of directors and stage people expecting to see an actor, a singer, and a dancer?
Why my sudden interest? Why now, after all this time? I don't really know…I guess I have succumbed to the childhood fantasy of being a star, which most of us have deeply rooted in our hearts. It's an idea inspired by the James Dean's, the Elvis Presley's, and the John Wayne's of the world. In fact, I think it might've been John Travolta's performance in Grease that perhaps inebriated my will the very instant I signed up for an audition after Mass at Christ the King for Joseph and the Amazing Technicolor Dreamcoat, which was the church's first Theatre Ministry production.
Less than half an hour after signing up I regretted it, but by then it was too late. I didn't hear anything else about the production for almost two months before a half-hearted urge pushed me to contact them again and see what had happened. Apparently, they posted the audition schedule on the lower level of the cathedral and, since I never saw it, I completely missed it. The director, however, said that she was in dire need of men and invited me to attend the first rehearsal.
During that first rehearsal, the musical director introduced himself and simply reviewed the music. I continued to come after that, not knowing what to expect. Soon after that, almost by osmosis, I became Zebulon – one of Joseph's brothers – and I didn't even have to go through the dreaded, long-awaited audition (that's yet to come).
It was amazing to witness how the director built the musical from mere words on a script into a beautifully crafted production. He carefully layered each coat of the story with extreme care and dedication. It started with the music. We rehearsed the songs for about a month before stepping foot on stage, and detailed every note and harmony. We took note of tempo and dynamic changes and the music came alive, as if by providence. Then we choreographed and set the scenes, and slowly inched our way to a complete show. The stage then started to come together, little by little. The walls, backdrops, and props started to pop up and set the place and time of the story. Costumes were next. They gave color, depth, and texture to the characters, and all of a sudden brought them to life. Finally, the orchestra joined us, at which point the music, choreography, set, costumes, lights, and cues finally gelled, ultimately giving birth to the magic of theatre, to the storytelling qualities of a great music and dance show.
Rehearsals were extremely enjoyable. The cast joked all the time, throughout every rehearsal. We derived pleasure from the sheer process of setting, acting, singing, and dancing in a show, and being around people that were similarly stimulated and very open and nonjudgmental. The marriage of music with movement and emotions was both magical and thrilling. It allowed us to express the deepest, most intimate parts of our personalities, parts we mostly inhibit and suppress in our everyday lives. The emotional and spiritual freedom was intoxicating and addictive. Such was my new love affair with the stage that the idea of doing it again consumed me. The theatre bug's poison was already thriving in my veins and pushing me over the edge. It brainwashed me into the notion of auditioning for the first time ever, which brings me to last night and the point of the story, when I auditioned for Guys and Dolls in downtown Decatur.
Open auditions were called for seven o'clock in the evening and I walked into the theater at about six-thirty. Other people were already there. They were filling out forms and attaching (imagine this…) their headshots and résumés on to them. I, of course, didn't bring anything of the sort (not that I had much to show anyway). I filled out my form as best I could and they assigned me a new name: Number 9. I was also told to write down the titles of the two songs I was prepared to sing (I was really only ready for one, if one could call that "ready"). I planned to sing and dance one of the numbers from Joseph. I turned in my forms and waited for instructions, but they gave none. The instructions might've been obvious, but certainly not to me.
"What do I do now?" I really had no idea.
"Just walk into the theater behind you," the woman answered matter-of-factly.
As I walked in, I heard a voice telling us to sit "on or behind" the fourth row. The director then introduced himself and gave us an overview of what was going to happen.
"First, we're going to sing all of you, then dance you, and, finally, we're going to have you do cold readings."
Okay, perhaps I should describe what I had expected to happen before going on with what actually took place. I thought we were going to perform for the director individually, one-on-one, without the rest of the contestants looking on. For that, I was ready to do one song and dance routine from Joseph and I was going to both sing and dance at the same time, which is how I knew it, not separately. I figured we'd do cold readings, but again, individually. Clearly, the director's announcement deeply distressed me and made me more self-conscious than ever.
The director called the first victim.
"Number 1, come oooon down!" The director stressed and sang the word "on" like a game show host.
The first actor was black, slim, and between 16 and 20 years old. He came prepared with a CD (a freaking CD!). I didn't bring a tape, CD, or sheet music, for that matter. I had absolutely nothing to help me. At any rate, he played the CD and was about to begin when (I couldn't believe it) I heard the lyrics sung by the original artist, whoever that was, audible behind this guy's voice. He sang well, but then again, he had unfair advantages (I wish I'd known we could do that!).
The next actor came down and, again, brought a tape with her and sang her heart out. She was AWESOME, better than the last one. I thought I was actually watching a Broadway show, and for free. Six others came before me and all of them had a CD, tape, or sheet music to help them through the song. As Number 8 was called, my heart picked up its pace and it peaked when I was finally called down. Singing a cappella is definitely not my strong suit, but I had no choice. In fact, singing altogether is not a talent I would ever lay claim to.
"Unfortunately, I'm not really well prepared," I said in a low, apologetic tone, as I walked up the stage under the burning heat of the spotlight. "I don't have a tape or sheet music. So…I guess I'll just go with it…if that's okay."
"Okay." The director said.
"Ready…" Then I started singing. "The dreams of our dear brother are…the decade's biggest yawn. His talk of stars and golden…"
They'd told us to stay put on the specified mark and sing without moving, which meant I couldn't do my dance routine. I didn't know what to do with my hands and they just hung lifelessly and awkwardly. In spite of the bright light on my face, I could still see everyone clearly and that was definitely a bad thing (a very bad thing!). The whole room went silent and all I could hear was my raunchy, shaky, and insecure voice, which was more than likely off pitch. I sang out loudly and let my voice carry through the theatre. Just as I did that, it occurred to me that projecting like that wasn't a good thing, especially considering the melody I wasn't singing and the notes I was singing, but it was too late to back out. The song seemed endless and I became anxious and more nervous as I sang. I must've missed a lot more notes toward the end, when thoughts of self-doubt and insecurity were spreading and emanating out of every pore of my body. I just hoped no one else knew or remembered the tune very well, so they couldn't compare it to what it should've sounded like.
For my second piece, I chose "Yesterday" from the Beatles, which I usually accompany with my guitar or a tape, but not on my own. I couldn't think of any other song I could do when they asked me for a second one. I figured "Yesterday" was sufficiently popular for the accompanist to know and play on the piano for me without sheet music.
"Do you happen to know the music for 'Yesterday'?" I asked the accompanist, apologetically.
"No, no. I can't really play by ear, either." He shrugged his shoulders as he said this, as if nothing really mattered.
"Well…I'll just go for it, then…" And I sang again. "…Yesterdaaaaaay, all my troubles seemed so faaaaaaar away. Now, they look as though they're heeeeeeere…"
Without music, I could begin to hear myself sing off key, clearly and loudly for everyone to hear. I finished and the director told me to get off stage and sit down. I didn't even want to look at anybody's face (I was too ashamed) but I must say I was extremely relieved to know that I was done with the singing (thank God!).
After we all finished, they led us to another performance space to dance with a choreographer. On our way there, an older man asked for a dressing room.
"A dressing room…why would they need a dressing room?" I thought to myself.
The heavyset gentleman was in his fifties. He had white hair, a beard, and a moustache. He was somewhat delicate and soft in his movements and manners. Anyway, he came out of the so-called dressing room with a white t-shirt tucked inside a pair of black silk-like, long-legged spandex shorts – down to his knees – a pair of black knee-high socks, and a pair of black soft shoes, like the ones a ballerina wears. His milky white skin gave the costume a severely contrasting backdrop (interesting…). I, on the other hand, was in my faded blue jeans with a two-year old t-shirt, a set of car keys in my pocket that clanked metal-to-metal noises with every stride, and a pair of comfortable tennis shoes. I felt a little out of place, but I quickly realized it was impossible to humiliate myself any further, no matter what I did.
The dancing, as it turns out, wasn't that bad. The other actors may've had amazing singing performances and trendy dance clothes to match, but their dancing skills were not overwhelming or intimidating, varying from awkwardly uncoordinated to delightfully graceful. I don't think I did too badly here; I felt halfway coordinated. I do wonder what the choreographer wrote down, though. She had a postcard for each one of us spread out across the floor in front of her and wrote notes on them while kneeling on the hard linoleum. She taught us a dance routine, led us through a short practice run, and watched us mimic and perform it. Afterwards, she asked the director and producer to come in and watch us. They also wrote notes down on their own set of postcards, just as they had when we sang (only God knows what they had already written on them about my performance!).
Okay, we weren't done yet. We still had to do cold readings. I thought I'd be done with all of the audition in half an hour, just enough time for me to get back to Music Midtown, where No Doubt would be performing, which I really wanted to see. But no, at that point, my chances of getting to the concert were very slim, to say the least. It was already past nine o'clock at night.
The director told us that he had assigned us various parts to read and that we could review them for a few minutes. They divided us into groups, which were mostly comprised of two people, but ours was of four, and gave us a scene from the script. They assigned me "Harry the Horse."
"Have any of you seen the show? Who's Harry the Horse?" I had to ask.
I wanted to get an idea of who "Harry" was so that I could impersonate him. The other guys in my scene told me that he was one of the gangsters. We then did our first dry run in the hallway, just outside the theater. By the mere grace of God, I only had five lines to pitch, and I still messed them up (man, these guys were gooood!). We also had to do some movement within the scene, as inconspicuously specified in the script – it was in italics and enclosed in parenthesis in the middle of the dialogue – which made the reading a little difficult for me. Thankfully, we weren't the first ones to act out our assignment. We had time to rehearse the scene roughly five times (I really needed one hundred more times…and a stiff drink!).
They finally invited us back inside and we watched others perform their respective scenes (Wow! is all I can say). It wasn't a coincidence that the guys in my group knew how to act; everyone else did also. Our part came soon after and I did the best I could with my five or so lines. I walked in from stage left – or house right, which is the right side of the stage when looking from the audience – as instructed, and delivered my performance…
"Where's Nat'an Detroit? Has he got a place for the…"
I somehow drew a laugh out of a few folks in the house, which puzzled me a little, not knowing whether it was a good or a bad thing. I convinced myself that it was a good thing. Anyway, I crossed over to stage right when I was supposed to (I think) and did my best to look tough with my arms crossed, legs spread apart, picking my teeth with my index fingernail, and frowning with a condescending, empty stare, believing "Harry the Horse" to be crude, ordinary, and vulgar (I must've looked ridiculous!).
What a treat it was to watch everyone else, though, and I didn't have to pay a dime to see them (well, I did have to humiliate myself…). The director closed the evening with the timeless "Don't call us, we'll call you" routine, but not in so many words:
"You'll hear from us tomorrow for possible callbacks on Tuesday, or by Friday, if you're cast. If you don't hear from us by Friday, thank you for auditioning, but we can't really use you in this production."
I guess I now know what to expect for tonight's audition of West Side Story. I should probably end this story by quoting the e-mail message the Guys and Dolls' director sent me today:
Gabriel,
Thanks so much for your audition last night, you did a great job!
I would love to have you come to callbacks on Tuesday @ 7:30 PM. We'll teach you some of the music from the show and have you read for some of the other roles in the show. Also, please be prepared to do some more movement/dance.
Also, if you have a headshot and résumé, please bring it with you on Tuesday. If not, that's OK. If, for any reason you cannot attend callbacks, please be sure to let me know.
Wait a minute…Did he say…"a headshot"?